News
2015/11/22
A talk show with director Mako Kamitsuna with her film, "Katya".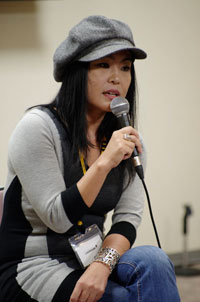 "Katya" and "She, Who Excels in Solitude" were shown at NTT CRED Hall 2 at 19:00pm on November 21st. After screening, Ms. Mako Kamitsuna who was the director, playwright, and editor of both films, Mr. Taro Sonoda who was a producer in Hiroshima Home Television, and Mr. Hideyuki Tokigawa who was a filmmaker were invited to the talk show.
Mr. Sonoda and Mr. Tokigawa acclaimed Ms. Kamitsuna's works. They said "both films have high perfection. We haven't seen any short films such high quality like these films."
Ms. Kamitsuna talked about "Katya". She said, " I plotted a long film at first. "Katya" was reduced to 20 minutes time period to keep high quality. I wanted to show this film as an actual film to appeal for money to make films in future."
When she mentioned the production cost was 3 million yen, Mr. Tokigawa seemed to be satisfied. He said, "the necessity to make high quality film with low cost was director's requirement of production."
Both films showed submarines and astronauts. She told the reason why she picked up these topics that were unfamiliar with Japanese, "I love history. I want to reveal unknown history and depict what the people did in that time. That might be why I am interested in topics that other people don't focus on."
The key that made her want to be a director was in her infancy. She said, "I often had seen films in movie theaters since I was 6-7 years old in Hiroshima. Then, I went to America by myself at the age of 16 and studied to be a director, playwright and editor."
When she was asked about her future, she said, "I want to make a film in Hiroshima, especially involving my family who live in Hiroshima. My grandfather opened his clinic in 1949, so I want to depict the recovery history of Hiroshima from his view. I want to depict Hiroshima history that only Hiroshima people can tell. It is a privilege of a director who is from Hiroshima. But first, I have to edit the documentary of X JAPAN (Japanese famous rock band) when I go back to Los Angeles." She mentioned the edition of the documentary that will be shown before X JAPAN concert on March next year. She must be very busy.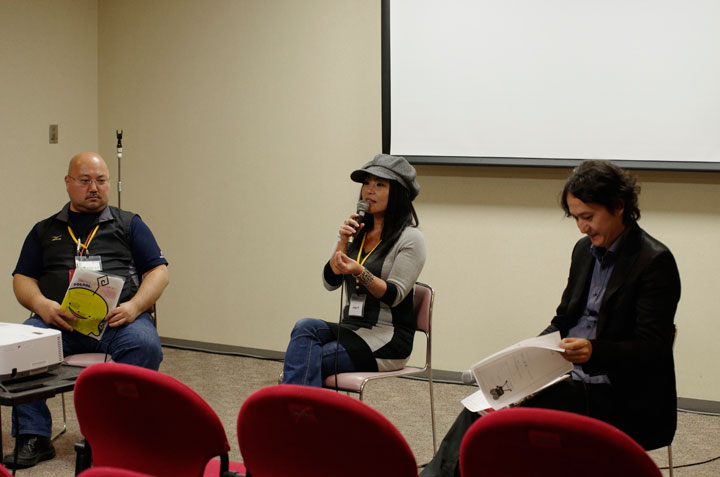 « (日本語) 草野なつか監督、野原位監督によるトークショーが行われました。NEW KENBITEN Annual Competition of Art in Hiroshima Prefecture »