News
2017/11/24
Memorial Party of In This Corner of the World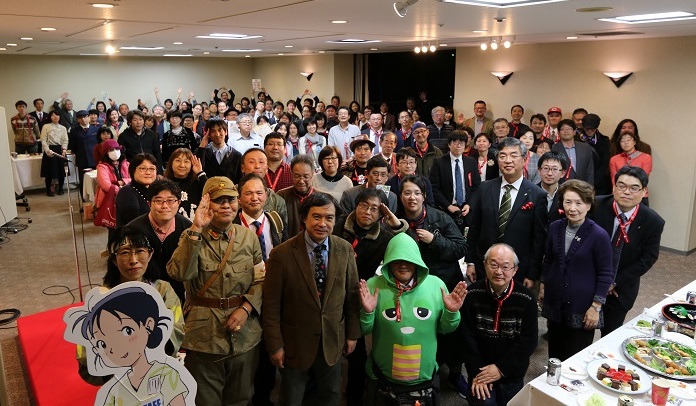 A memorial party was held for celebrating the success of director Sunao Katabuchi, who has a deep connection with Hiroshima International Film Festival.
The Party started with the speech of Mr. Yukitomo Tochino, who taught Hiroshima dialect and was the voice-over artist for 6 characters such as a military policeman, a boatman, an old woman in black market. His speech made atmosphere of the hall warm. When Director Katabuchi appeared in the hall, the audience applauded, "Welcome back, Mr. Katabushi!"
Director Katabuchi said impressively, "I had joined this festival since it was the former Damah Film Festival. There is a whole new and original form of film in this Festival. This Festival impresses me."
People toasted with director Katabuchi's speech, "The message of this film is 'Be happy with everyone.' Wish your happiness."
"In This Corner of the World" has been shown here in Hiroshima, every single day since its first showing. Some people in the audience have watched this film more than 20-30 times. They were excited with some parts, such as reciting lines of the beginning or questions of which were very difficult to answer if you watched the film only one time.
In the audience, one said, "I fell in love with Mr. Katabuchi's personality." Another one said, "I was shocked by this film. I signed a waiting list for this party and I could finally join today." Also, there was yet another who said, "This film gave me the opportunity to talk about the war with my family members who were born before the war."
In this party, Mr. Katabuchi was talking with the audience, Mr. Tochino was taking photos, and the audience were discussing movies. The atmosphere of the party was harmonious.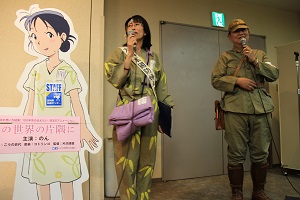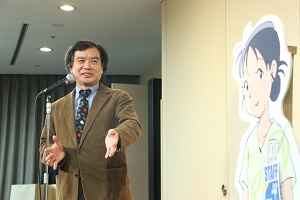 « Mrs. Rivette appreciated showing phantom filmsHaving Fun at Hiroshima International Film Festival! »