News
2019/11/24
Hiroshima International Film Festival Awards Presentation and Closing Ceremony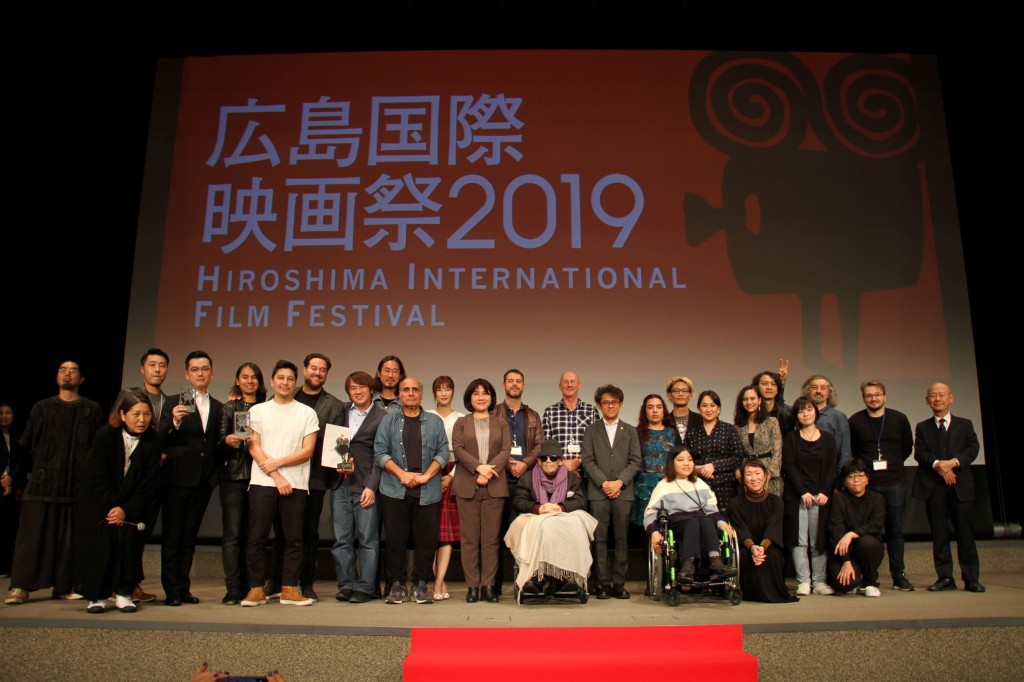 The awards presentation and closing ceremony of The Hiroshima International Film Festival's (HIFF) Short Film Competition, were held at the first theater in NTT Cred Hall on Sunday, November 24th at 19:00. Mr. Michita Kimura and Ms. Pauline Baldwin served as the MC's.
The Chairman of the Executive Committee, Mr. Kazutaka Yamamoto greeted everyone and provided his closing statement. Next, Director in Cultural Arts Division of Environmental prefectural office, Mr. Hisashi Okamura read a message to celebrate the success of the HIFF on behalf of the Governor of Hiroshima, Hidehiko Yuzaki.
The awards presentation was then held for the winners of the HIFF Short Film Competition, of which 6 films submitted from all over the world competed. First, the Audience Award, presented for the film most appreciated by the audience vote, was awarded to "Mr. You's 100th Birthday", directed by Ringo Ye. This was Director Ye's second time winning an award from the HIFF since also winning the Hiroshima Grand Prix in 2016.
The award ceremony moved on for the announcement of the Jury Award, which was awarded to Ricardo Soto's "OLYMPIC FLAME".
To cap off the Awards presentation, the HIFF Grand Prix Award was announced by The Jury President, Director Amir Naderi and "A MILLION EYES" was selected. Director of "A MILLION EYES", Richard Raymond was awarded the Grand Prix.
All winners were presented with a trophy resembling the official character, "HIFFY" of the Hiroshima International Film Festival. Jury Director Amir Naderi said, "it was too difficult to choose," and concluded, "I hope female directors who were not nominated this time will continue to participate and more works would be able to compete."
In the end, the President of the HIFF, Ms. Kyoko Heya announced, "HIFF shows films from all over the world which carry positive messages. Based on the concept, we had been holding the HIFF, but we just have to resonate with Director Nobuhiko Obayashi's strong feelings for peace and want to create the film festival with the power to make the future peaceful."
The Hiroshima International Film Festival 2019 then closed with a big round of applause.
Award Winners of the Hiroshima International Film Festival 2019 »