News
2019/11/22
"Secrets in the Hot Spring" screening and talk show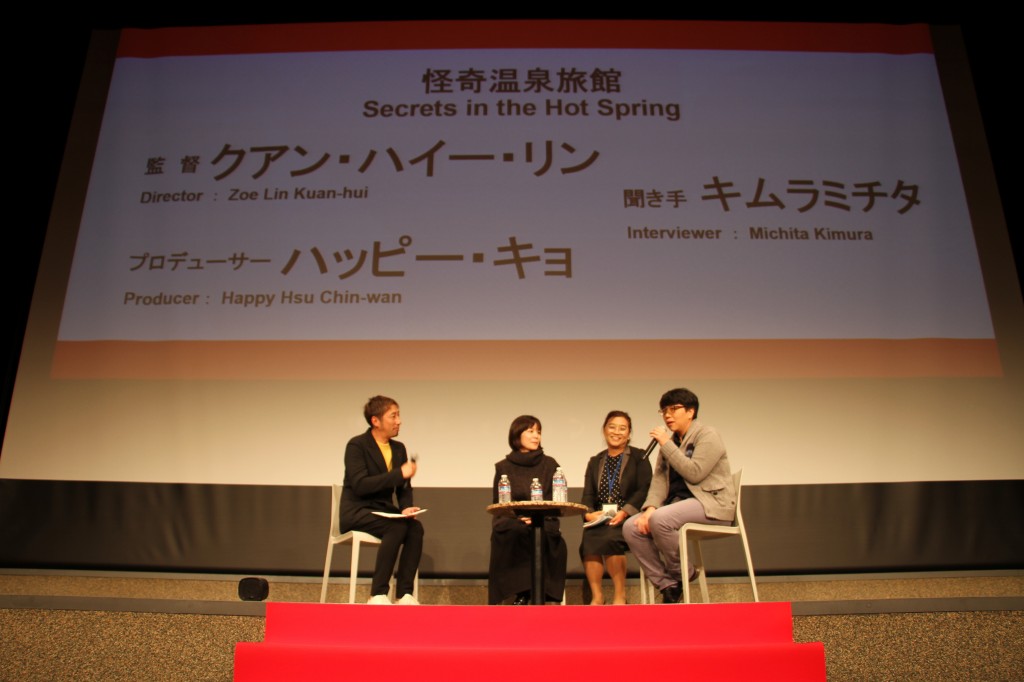 On Friday, November 22nd at 16:30, "Secrets in the Hot Spring" was screened at NTT Cred Hall No.1. After the screening, Ms. Zoe Lin Kuan-hui (director) and Mr. Happy Hsu Chin-wan (producer) appeared on the stage for the talk show, with interviewer Michita Kimura.
 Ms. Lin won the Grand Prix Award in the 2010 Damah Film festival in Hiroshima, which is a predecessor of The Hiroshima International Film Festival. She greeted all saying, "I'm happy to come back to Hiroshima." Mr. Hsu expressed his gratitude for having the opportunity to share the movie with his fluent Japanese.
 The story of this film is that three high school boys found a family hotel haunted. Ms. Lin spoke of it as "comedy with horror elements." She said, "I'd like youth to chase their dreams helping with and helped by friends. I hope they get my message."
Ms. Lin mentioned they got some effects from Japanese culture, "Japanese horror movies are popular in Taiwan. You'll find how it influenced our work." She also told us about her trip to Kyoto with Mr. Hsu.
When a topic came to the process of shooting, Ms. Lin explained that a team prepared most of the set, including the family hotel and hot spring. "Shooting was carried out during the cold season, but we made the best effort to make a "set" hot spring looking like a real one," Ms. Lin said. 
At last, Ms. Lin and Mr. Hsu revealed their new comedy film idea with an element of horror. Ms. Lin expressed her hope to say, "I'd love to see you all in the audience in Hiroshima." As Mr. Hsu said, "Please look forward to our new film, which will be a far better one next time," applause broke out from the hall. 
« Workshop by Sunao Katabuchi – After screening "In This Corner (and Other Corners) of the World""I vouch for Mexicans' plenty of Pluck" Concheiro guaranteed »