News
2019/9/30
A screening of a spectacular love story, "The prisoner of sakura", followed by a talk show featuring its producer and author!
A story of romance between a Russian soldier and a Japanese nurse, taking place during the Russo-Japanese War. An epic love story depicting the extraordinary fate of two people leading up to the present day. This film, which original began as a Russo-Japanese collaboration project, has received high acclaim in Russia, and even received the Grand Prix Special Award at the Orenburg International Film Festival in Russia. The story originated from a radio drama series, also called "The prisoner of sakura", which received the Grand Prix in the Radio Division of the 1st Japan Broadcasting Culture Awards. After the screening of the film, we will welcome the producer Yumiko Masuda and Tanakahiko Tanaka, creator of the original radio drama, for a talk show covering behind-the-scene episodes about the birth and filming of this movie.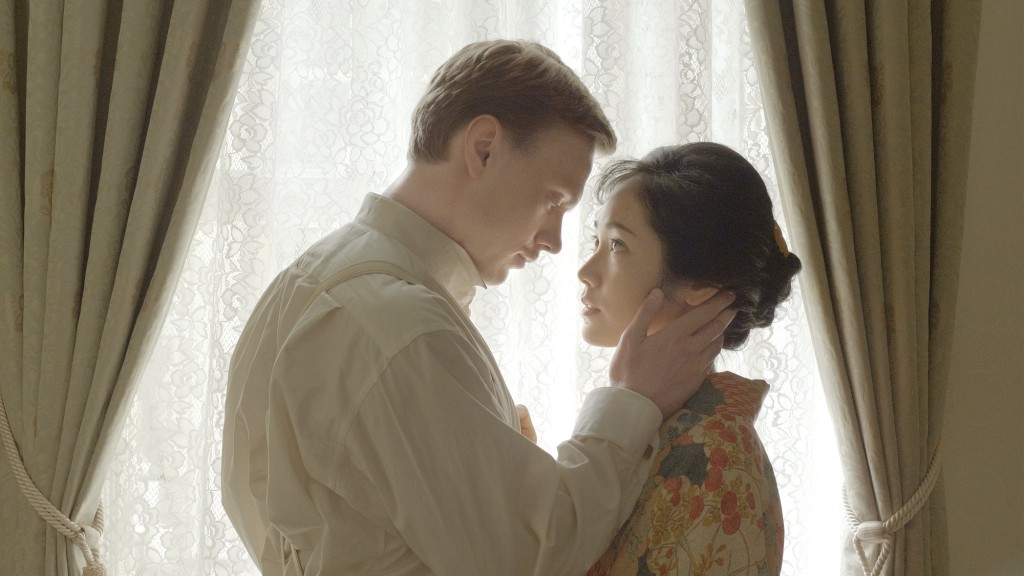 ©2019「ソローキンの見た桜」製作委員会
<Story>
Sakurako, an assistant director of a local TV station, is filming the story about the Russian prisoners of war cemetery that has always been kept clean by the local students. Kurata, Sakurako's boss, tells her that he is intrigued by a mysterious letter from Russian officer Sorokin to a woman named Yui Takeda, and asks Sakurako to join him for a business trip to Russia to have a look at Sorokin`s diary. Sakurako doesn`t seem to be interested much, but agrees to help Kurata. In May 1904, Russian Navy lieutenant Sorokin and other Russian prisoners arrive in Matsuyama, where he meets Yui, a Japanese volunteer nurse. Sorokin and Yui start falling in love with each other, but both of them have difficult circumstances. Sorokin is a spy from the anti-imperialist opposition. Yui gets pressure from her parents concerning her engagement. Finally, Sorokin and Yui decide to escape together. They spend several days in Kobe waiting for the ship to France. But, Sorokin wakes up one day and finds a letter from Yui, saying that she could not go with him, and she followed him to Kobe just to help him escape. Back in the present, Sakurako receives the diary of Yui from her grandmother, and learns that Yui is actually her great-great-grandmother. She goes to Saint Petersburg with Kurata, and learns that Sorokin had successfully come back to Russia because of Yui's help. She also receives a telephone call from grandmother who reveals that they are Sorokin`s descendants…
Director・Script: Masaki Inoue
Cast: Junko Abe、Rodion Galyuchenko、Takumi Saitoh、Issey Ogata
【Screening schedule】
"The prisoner of sakura" (2019/Japan/111 min) Nov 23 (Sat.) 10:00~ @ Yokogawa Cinema
 ※Programs such as the screening film, the time to start screening and guests can be changed due to unavoidable circumstances.
Producer: Yumiko Masuda
Born in 1961 in the city of Takayama in Gifu Prefecture, Yumiko started appearing as a reporter in news and children's programs on NHK Gifu after graduating from Kinjo University. She then worked as a writer for a monthly magazine, Home Economics Wise. Later, she established a production company, Heisei Project Inc., in Tokyo and has been constantly producing a number of films and TV programs. She is the author of three books that tell her story of film making as a housewife.

Kazuhiko Tanaka
Kazuhiko Tanaka was born in Ehime Prefecture in 1954. He graduated from Waseda University, School of Political Science and Economics in 1977. He entered Nankai Broadcasting Co., Ltd. in the same year as an announcer. He served various roles including a newscaster, an anchorman, a sportscaster of baseball or soccer and a radio personality of popular programs such as "Pops Hiko Hiko Time". He has produced more than 30 original radio dramas with the theme of excavating history of his hometown, Ehime Prefecture, as his lifework. He won the Arts Festival Award by the Agency for Cultural Affairs in 1985 for "Revenge of the Red Shirt". He won the Radio Grand Prix at the first Japan Broadcast Culture Awards in 2005 for "The Prisoner of Sakura". He became the president of Nankai Broadcasting Co., Ltd. in June 2014, after serving as director general of programming bureau, director general of radio bureau and manager of the Nankai Broadcasting Co. president's office.
« (日本語) 広島国際映画祭2019「ヒロシマ平和映画賞」は海辺の映画館ーキネマの玉手箱」に決定!!A screening of "Her Love Boils Bathwater" (barrier-free version) and talk show to follow, featuring music director Takashi Watanabe (from Hiroshima City)! »