News
2017/11/26
The closing and awards ceremonies of Short Film Competition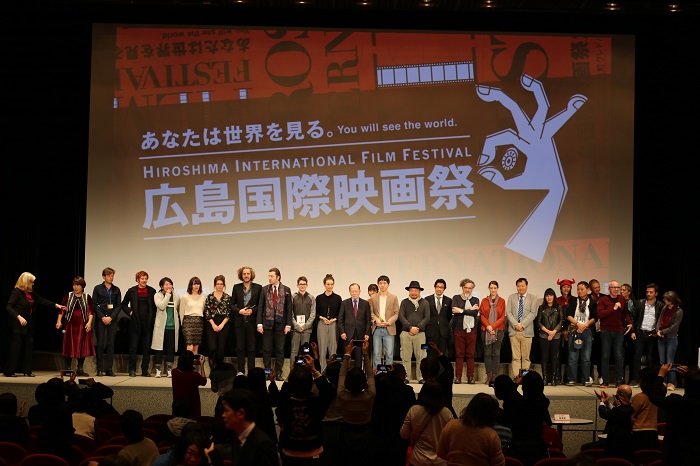 The closing and awards ceremonies of The Hiroshima International Film Festival's (HIFF) Short Film Competition were held at the first theater in NTT Cred Hall on Sunday, November 26th at 19:00. Mr. Michita Kimura and Ms. Pauline Baldwin served as the MC's.
The Chairman of the Executive Committee, Mr. Kazutaka Yamamoto greeted everyone and provided his closing statement, then the award presentation and ceremony were held for the winners of the HIFF Short Film Competition, of which 6 films collected from all over the world had competed.
First of all, the Audience Award, dedicated to the film most frequently appreciated by the audience vote, was awarded to, "Hanne and the national holiday", directed by Guillaume Brac. Director Albert Serra, of the jury, introduced by stating, "It is said that the customer is always right in any field and this film is the highest rating among them." Director Brac showed gratitude to the audience with excitement stating, "I am glad that my film is well understood in Japan!"
Next, the ceremony moved to the announcement of the Jury Award. Director Rithy Panh of the jury, announced the award of director Huang Sheng-Ming's "Stuck", and then said, "I feel like I want to give everyone a prize, but one was finally decided." Director Huang who is still a student smiled full of joy and said, "Sometimes I was lost to which way I would go. I feel I have got something."
Finally, the HIFF Grand Prix Award was announced. The Jury President, Director Kim Dong-Ho said that, "It was a difficult choice!", and awarded, "Barbs, Wastelands", directed by Marta Mateus. When the name of Director Mateus was called, the venue was filled with joy and great applauses.
Director Kim gave her a glass trophy made from the sand of Ōta River and a prize of 300 thousand yen, appreciated as "highly directive, expressing the farmers' living so graphically, and superior image technology." Director Mateus said, "I want to thank everyone who worked for this film. Especially, I am proud to work with the farmers who were not actors and can't read or write. In addition, Hiroshima is worthy of respect for spreading peace. I think it shows courage to continue appealing. Words can sometimes help people, but words can also kill people." She sent a strong message to Hiroshima.
In the end, the President of HIFF, Ms. Kyoko Heya said, "Please come back to Hiroshima and let's meet again next year!" And the Hiroshima International Film Festival 2017 closed with a big applause.