News
2017/11/26
The Jury President Kim Dong Ho talks about his film "The Jury"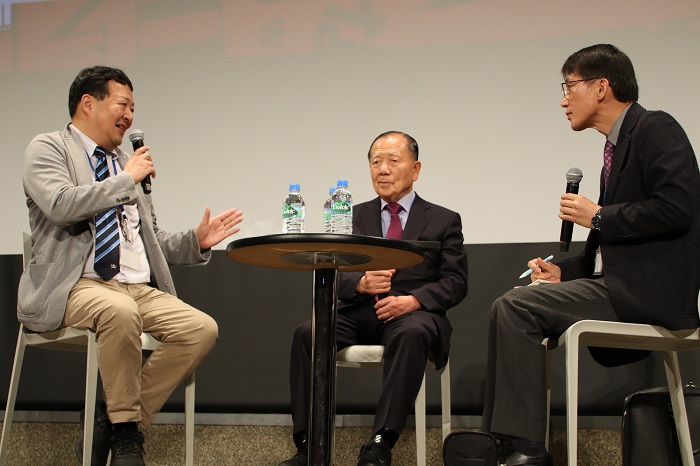 On Sunday, November 26th at 10:00, "The JURY" was screened at NTT CRED Hall.
As a film director debut work by Kim Dong Ho who is the Jury President of The Hiroshima International Film Festival (HIFF) 2017, many filmophiles came to the first screening in the morning.
The scene of this film is a film festival where young directors compete for works. After the screening is over, five jury members gather. Director asserts that a film should move the heart. A seasoned actress emphasizes on the message of the film. The Jury President struggles to summarize the opinion of assertive jury members and it is the Japanese jury member Ms. Tomiyama who held the key. She cannot fully express her thoughts because of the language barrier, as the jury members argue and gasping, suddenly says, "The film is xxx!", and surprises the other members. What is that word? Will the jury members reach an agreement against all odds?
Director Kim Dong Ho appeared on the stage after the screening. He said, "I wanted to visit Hiroshima, a very historic city, so I am very pleased that I am invited as the Jury President of HIFF. I was surprised it is so beautiful since such a great tragedy happened in the past. "
Regarding International Short Film Competition he said, "Each work is so wonderful that it was too difficult to choose, but the judgment is over in peace." When he compared his film with the tremendous review scene the audience laughed.
It is his first directorial film offered as the commemorative 10th Asiana International Short Film Festival after he had been a festival director of Busan International Film Festival for 15 years. "I wanted to make a film by taking advantage of my experience as a jury member of the film festivals. I got nervous because I am now on the side to receive a reaction from the audience." he said, "By engaging in film work for many years, my first film is a short story but a masterpiece that experienced actors and production staff had participated.
At last, he touched on the schedule of his next feature film shooting. "I think that the film should be interesting and sensitive. Also, I add elements of love drama, but I'm not planning on making it with sexual content." He smiled and showed his motivation for the next work.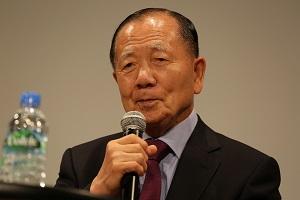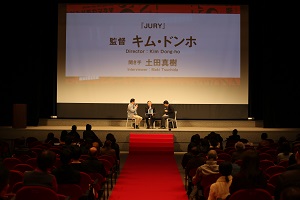 « "THE SEA WALL" Talk Show by Director Rithy PanhAward Winners of the 5th Annual Competiton of Art in Hiroshima Pref. »