News
2017/11/25
"Acting is a magic created by actors!" Director Geunwoong strongly says.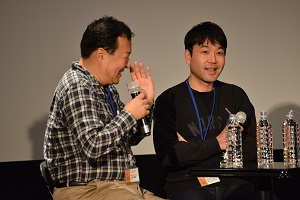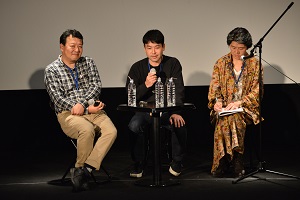 "The Gravity of Acting" was screened at the Yokogawa Cinema on Saturday, November 25th at 14:00.
A theatre actor, Sung Hyun, was offered to play a role in a film though he had almost forgotten dream and passion toward acting. Sung Hyun decided to take a chance of playing in the work of an attention-drawing young director with hope, but then, his rival, Tae Seok joined in this competition for playing the leading character.
Director Geunwoong Chung had been making commercial films after he graduated from the visual art section of Korea National University of Arts. This work, "The Gravity of Acting", is his first feature film.
After screening, the Director's Talk Show was held with Japanese Producer Maki Tsuchida as the MC. In replying to the question about the meaning of the title, Director Geunwoong said, "Although the title is translated as 'Engi no Juuatsu (Pressure)' in Japanese, the original title was 'Engi no Juuryoku (Gravity)' when it was first screened in Korea. I thought actors are feeling the gravity of living while they are pursuing their performance." When he was asked the reason why he chose an actor as a main character, he answered, "There is no particular reason. This is like an imaginary story which I came up with when I was drinking with my friends. It took only 2 months to shoot this work." In replying to the next question, "How do you understand the feeling of actors?", he said "I am really lucky to be able to enjoy directing this film with great actors, and those good atmospheres might have appeared in the work." Lastly, in replying to the ultimate question, "Does good performance come from the experiences or do actors create by themselves?", he answered, "If you say that the experience is important, old actors should be all good. But actually, there are many great young actors and it implies that there are several possibilities, like they could brush up their acting skills by learning from others and consider themselves, or they have given talents."
At the end of the show, he jokingly showed his confidence by saying, "Please look forward to my next work which will be an entertaining horror movie with a lot of blood spreading!"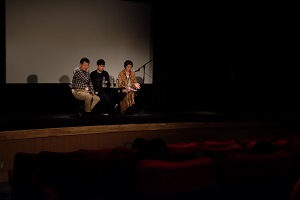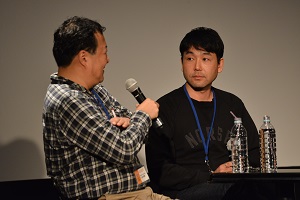 « Unplugged Live with the mixture of Gipsy and Irish Music at the foyerThe Death of Louis XIV »