News
2017/11/25
Harmony of a French masterpiece and the beautiful sound of piano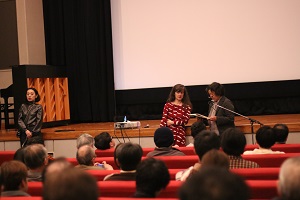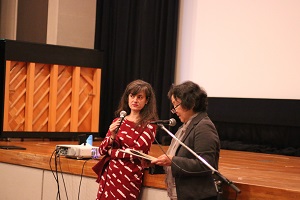 On the 25th of November, from 14:00 "The Flood", directed by Louis Delluc, was shown at Hiroshima City Cinematographic and Audiovisual Library.
The film was his posthumous work and this time it was remade from 15mm to 35mm and presented as a silent movie and all in monochrome.
At the theater, Mie Yanashita, a silent film pianist gave a fantastic live performance with the film.
"The flood" was also nominated at International Restoration Film Festival hosted by Cinémathèque française in France and invited to HIFF.
Louis Delluc was born in France, 1890. He made famous films, "La femme de nule part" and "Fievre", and he is also known as a critic who introduced the concept called "cineaste" to France.
He drew the flood incident occurring in a peaceful town along the Rhone and at the same time, complex human drama happening around Alban, who is a young and honest peasant and Margo, who is beautiful but inconstant.
Before showing the film, Pauline de Raymond from Cinémathèque Française gave an explanation about the film and the director. "She mentioned that "The flood" was his best masterpiece with very sophisticated camera shooting. She also referred to a painter who affected the way of drawing landscape in his films.
This became his last film because he passed away due to the health problem caused by his busy schedule and the serious humidity from the flood.
An audience coming from Asa-Minami said, " I was trying to find the scene in the film, a woman standing in the river alone, which remains in my memory since my childhood, but I couldn't." he continued, "However, I found the difference between the old films and the modern ones, that is, in the old films, I would say each scene is more connected rather than each story." The venue was filled by the audience and they enjoyed the unique atmosphere made from the harmony of the film and the piano performance.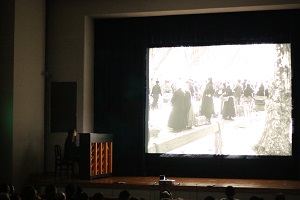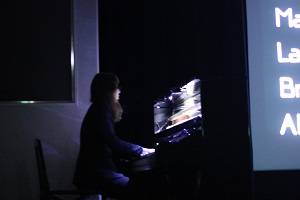 « "The road to Ernoa", a masterpiece of silent film, was shown with live piano playing by Mie Yanashita.Director Mostafa Razzaq-Karimi talks about his film, "Memories for All Seasons" »