News
2017/11/25
LEMMINGS SUMMER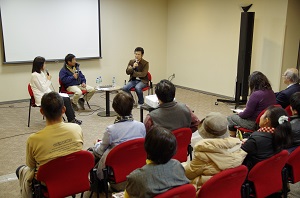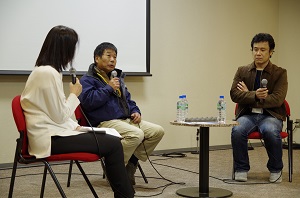 On the 25th of November, from 13:00, "LEMINGS SUMMER" directed by Toshihiro Goto was shown at NTT Cred Hall No.2.
The story features 14 year-old boys and girls who conducted one plan during summer vacation, which leads to reveal a tragic incident happening in the past.
Mr. Goto talked about the background of the film saying, "I made this film recalling my childhood days at the talk show after showing the film."
He admired Ohshiro Maeda, who played the main character who is very lively yet sensitive, mentioning, "He is developing himself remarkably. He was very positive and was involved in the film quite actively."
His ambition of making films dates back to his early days when he watched the film directed by Akira Kurosawa for the first time. His next film will feature Hiroshima as a main location, as he has been attempting to make it for ten years.
In 2008, he met Mitsunori Yagawa, who had been working as a piano tuner dreaming of restoring atom-bombed pianos.
He was very inspired by his activity and used his motivation to make a film based on this episode. At first, he hesitated to make the film, asking himself, "Do I really have a right to make the film as a person who was not born in Hiroshima?" and the plot has been left untouched for many years. However, after he experienced a serious accident and recovered, he thought, "I was saved. Now my new life was somehow given to me at that moment." He made contact with Mr. Yagawa again and started to make progress.
Mr. Goto is now doing some interviews in Hiroshima and sometimes travels around Japan with Mr. Yagawa. He said, "I met a lot of people who changed themselves positively after knowing about atom-bombed pianos. I would like to share this impression through the film," with bright eyes.
Shooting will start next autumn in Hiroshima. " I want local people to play as extras in the film. After completing the film, I would be really happy to bring the film to HIFF," he advocated, and the venue was filled by big applauses from the audience.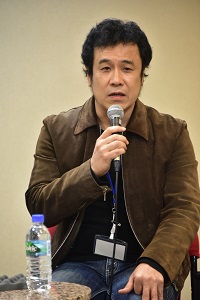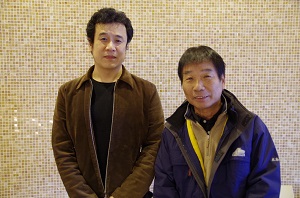 « Sunao Katabuchi & Yukitomo Tochino Talk LiveThe director of the "Toute la memorie du monde", Ms. Pauline De Raymond revealed "Un Chapeau de paille d'Italie" (An Italian Straw Hat). »