News
2017/11/24
"The Hiroshima Film Festival 2017" has finally started!
An opening ceremony was held at the first theater in NTT Cred Hall on Friday, November 24th at 15:00. The participants, such as the Jury president Kim Dong-Ho and his jury members, directors of the screened movies, and guest actors, all showed up by walking the red carpet in a dignified manner.
Director Sunao Katabuchi, the director of "In this Corner of the World" greeted and said, "This is my 6th participation." He wore the tie which is related to Non, who is the leading voice actress in the same movie. The Jury president Kim Dong-Ho said, "It is my great honor to come to Hiroshima, the town with the special history, as a jury president. I will do my best to give good evaluations together with Director Rithy Panh and Director Albert Serra." The Chairman of the Executive Committee, Mr. Kazutaka Yamamoto, who is also a chair of Hiroshima Culture Association, said, "The role of this film festival is to tell the people the importance of peace and to evoke people from inside and outside of Japan their concerns about Hiroshima." Hiroshima city mayor Kazumi Matsui has watched "In this Corner of the World" and "ERNEST", and told us the attractions of this film festival by himself in both Japanese and English. He said "Both works let us consider Hiroshima and the A-bomb from each different perspective. In this film festival, we can enjoy high quality movies and find young and talented directors."
The president of the Film Festival, Ms. Kyoko Heya reported that the Jury president Kim suggested a flower offering to the Monument of Korean Victims and Survivors, as well as the Cenotaph in Hiroshima Peace Memorial Park in the morning. She declared the beginning of "the Hiroshima International Film Festival 2017", and then the three-day film festival started.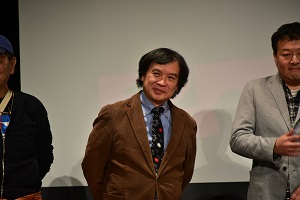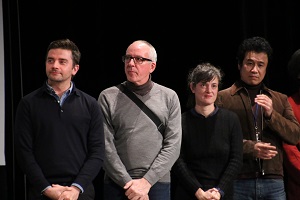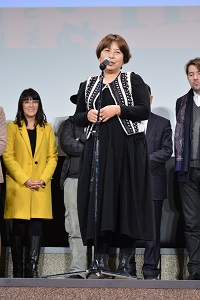 « In This Corner of the WorldFlower Dedication by the Guests of Hiroshima International Film Festival 2017 »