News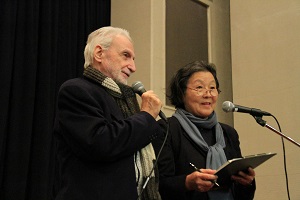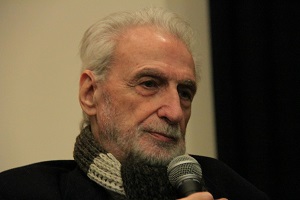 A talk show with director Paul Vecchiali with his film, "Femmes femmes".
"Femmes femmes" was shown at Hiroshima City Cinematographic and Audio-Visual Library at 14:00pm on November 11th. After the screening, Mr. Paul Vecchiali was invited to the talk show.
In the film, "Femmes femmes" (1974), two over-the-hill actresses live together in an apartment in Paris, surrounded by pictures of movie actresses, with alcohol as a friend, and they have a common past ...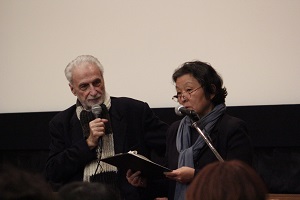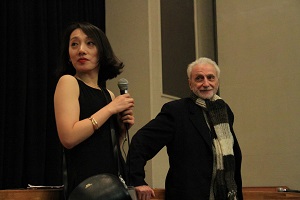 Director Paul Vecchiali talked about the film, and answered questions from the audience.
He talked about the idea of the film. "I saw a rich woman watching beggars who were drinking on the street when I came out of the film theater in Paris. At first, I thought of Yves Montand a beggar, Simone Signoret as a female, and Danielle Darrieux as the woman's sister. However, Noel Simsolo, co-author of the script said that you cannot make the film if you were particular about the cast. So, I asked Ms. Hélène Surgère and Ms. Sonia Saviange".
He talked about the shooting. "The first scene was 10 minutes and 40 seconds taken with one-shot, and it took two and a half days. The total shooting time was 11 days, so the first scene took a very long time. Hélène had a lot of experiences, but not Sonia. So there were gaps between them. However, Sonia had improved her performance during the shooting of the first scene, and the gap was filled. The next day, I could shoot 40 minutes in one day."
"I'm not sure about why I used the actresses' names for the act. It may be because I did not want audiences to have the feeling that they were acting. I tried creating a mood that they were playing like little girls in their own house. I was thinking abstractly, but they embodied my idea. Also, Chanson plays a very important role in the film. Actors were actually singing in the film, so it keeps continuity with the previous scene. They were acting by singing voice as well".
"Director Pier Paolo Pasolini said the film was a great work at the Venice Film Festival. When the film was released in Paris, there were only 1,500 attendees in a week. However, until now, more than 300 thousand people have watched it. My patience is rewarded. Lastly, I really like Director Kenji Mizoguchi, so I put his film's name,"Gion",as my first company's name ! "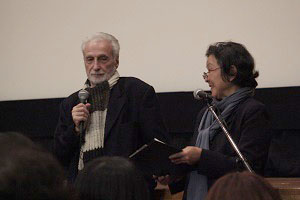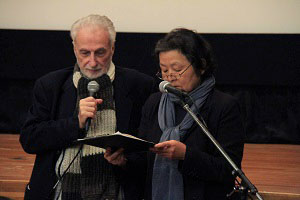 « The Celebration Party of The Reception of the Medal with Purple Ribbon(日本語) オープニング作品「灯籠流し」上映 »