News
2022/11/20
A talk show followed the screenings of "Best of Hiroshima Animation Seasons 2022"
On November 19th at 18:00 at Yokogawa cinema, "Best of Hiroshima Animation Season 2022 featuring H-AIR(residence) artists" program was held.
In the first half of the program, there were screenings of the 6 best films from the Hiroshima Animation Seasons 2022 which is a part of Hiroshima Festival 2022. Before the beginning, Shizuka Miyazaki, the artistic director of the festival made brief introductions of each of 6 awarded films. She told the differences in production methods such as one made by drawing animation cels one by one while another made by shooting frame-by-frame of felt, characteristics of each film, and that one was nominated for Academy Award for Animated Short Film in 2022.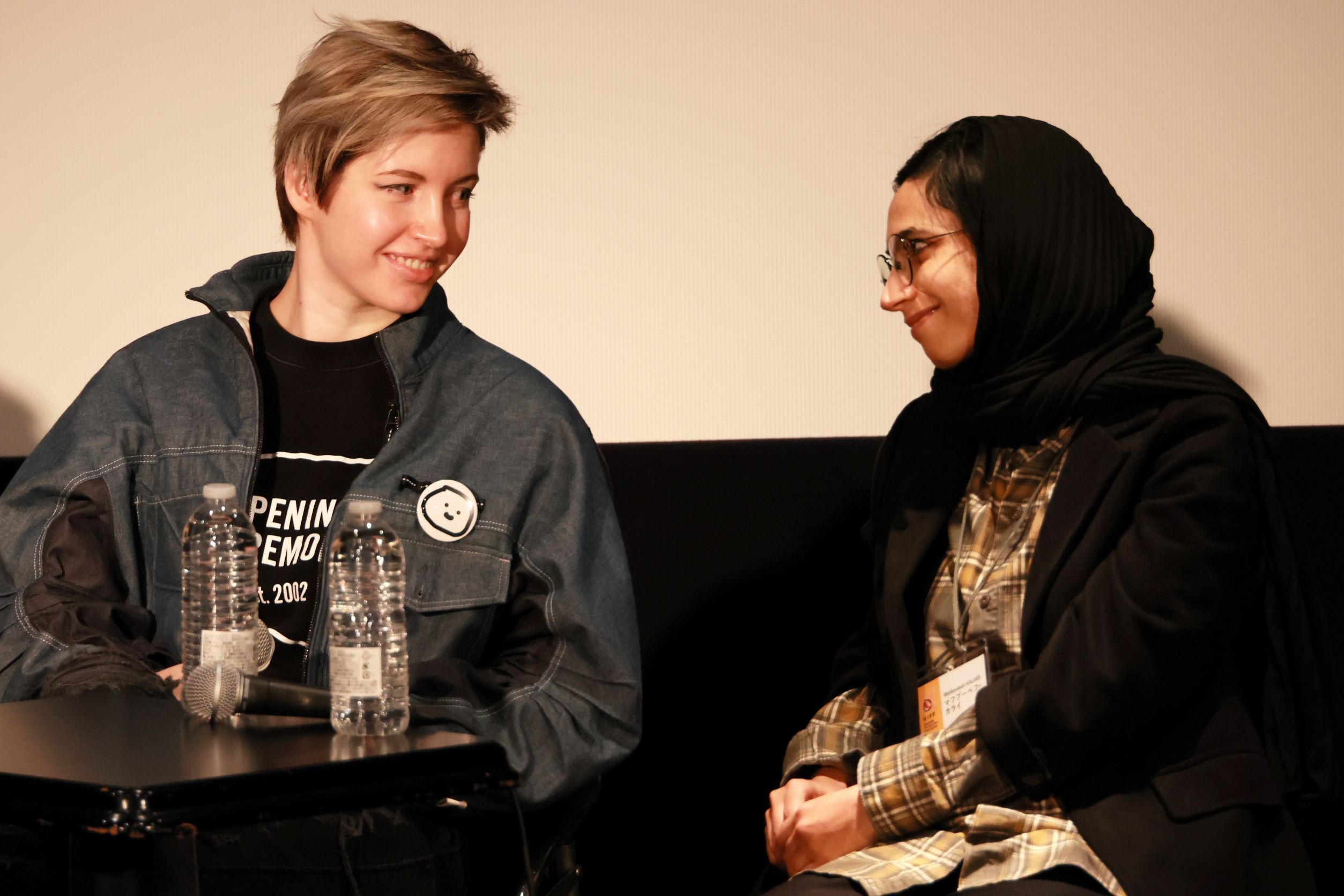 The last half was for "H-AIR(residence) artist" part and films of two directors who were invited as residence artists were screened. It began with 2 films of director Nata Metluk, one of which is "Reguler" which won an award in Pan-Pacific and Asia Competition program of Hiroshima Animation Seasons 2022. Followed were 3 films by director Mahboobeh Kalaee. Of the three, "The Fourth wall" won an award in World Competition program. Both were awarded among more than 2000 submissions to the festival. After the screenings, director Nata Metluk and director Mahboobeh Kalaee came onto the stage in applause for the talk show. MC was Shizuka Miyazaki, the artistic director.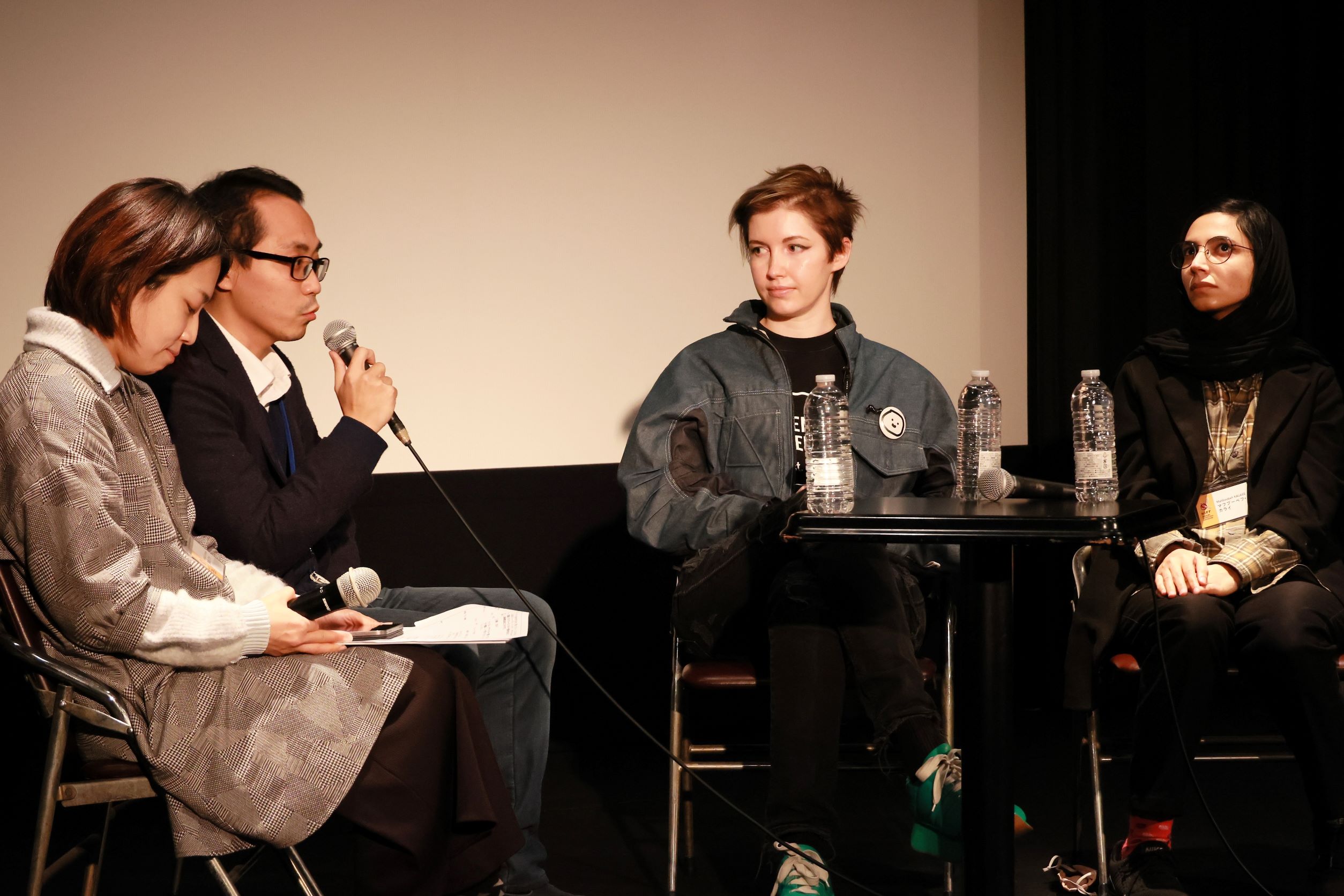 Miyazaki said that director Metluk had made a puzzle-like logical animation film using graphics fully while director Kalaee's film was a mixture of humor and wonder expressing philosophical aspect as well.
Both directors had been living in Hiroshima for 5 months and were leaving for home soon. About their stay in Hiroshima, director Kalaee expressed her appreciation saying, "In a different environment from my country, I was able to interact with people and nature and use that experience to make an experimental work. The experiences I had here will help for my future works". Also, director Metluk shared her goal with the audience saying, "I had such an interesting experience on the theme of time. I would like to include the sense of difference we feel about time in my next work". When Ms. Miyazaki asked "Although you two have already won awards in several film festivals, I think it was the first time for you to be awarded on the venue. Is there any difference?", director Kalaee answered that she appreciated the animation program and would like to apply for its residence program.
Director Metluk said "Thanks to the residence program, I was able to see and study Japanese artists' works. For my film "Reguler" font is an important part, and this film is not easily understandable to the audience. But to my surprise, in Hiroshima, people said it was very interesting. So, I felt that the level of the people in Hiroshima is high including the audience. My goal is to come back to Hiroshima Animation Season 2024(held biennially) and show you my new work".
When Ms. Miyazaki told the directors that she would like them to make use of the experience for their future works, both directors shared their appreciation and said that it was satisfying stay for them. The talks show was closed in warm and friendly atmosphere.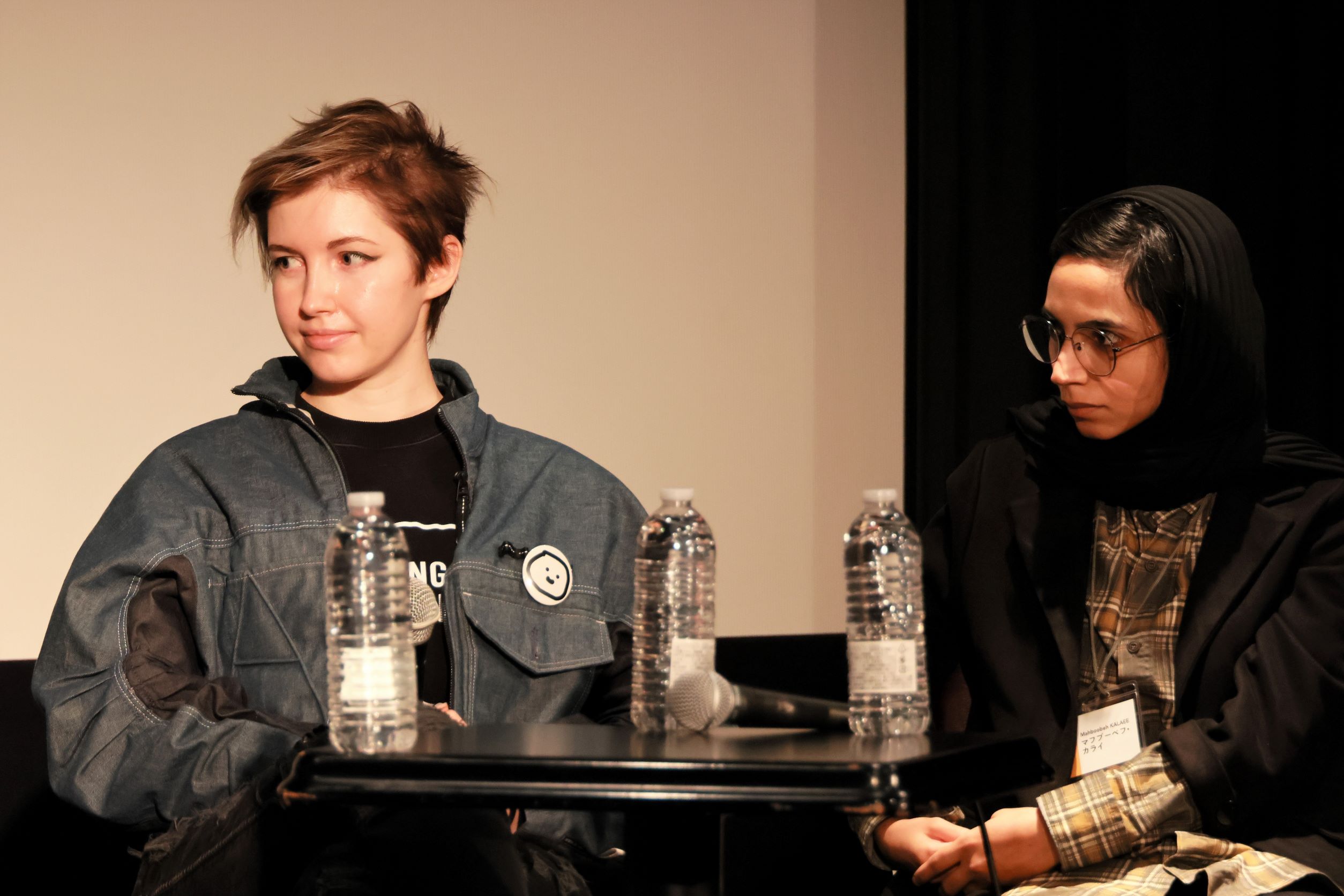 « − Getting courage from children who passed away − Screening and talk of "The Ship"(日本語) 長澤まさみ主演『MOTHER マザー』の上映と佐藤順子プロデューサーのトークショー »