News
2022/10/19
Screening of "Floating Borderline" Directed by SUMIMOTO Naoko from Hiroshima, and a Talk Show by the Director SUMIMOTO, the Actor KAWASHIMA Marino, and the Sound/Sound Mixer TAKIZAWA Yuki.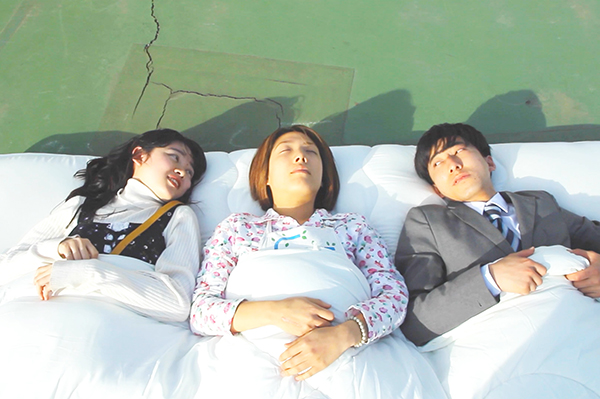 ©︎NAOKO SUMIMOTO
<Story>
Marino sleeps so much she's got bedsores. When she learns that Mamoru, a regular customer at the coffee shop she works part-time at works for a company that sells beds, she heads out to buy one. However, from the moment she uses it, weird and wonderful things start to happen, slowly throwing her quiet life into turmoil. Strange shadows come to life, dancing in unimaginable ways. She unexpectedly meets her childhood friend, Minori, who recants memories she has no recollection of and more.

Cinematographer/Lightning: OGAWA Kento, KOSUGE Yuki
Assistant Director: NISHIKIORI Kanako,TANAKA Daichi
Editors: TANAKA Syuntaro,TANAKA Daichi, OGAWA Kento, SUGINOME Nanase
Sound Design: SHITO Yuya
Sound: TAKIZAWA Yuki
Sound Mixer: TAKIZAWA Yuki, NAKAZAWA Yuki , MIURA Eiri
Art: KAWASHIMA Marino
Prop Design/Animation: NAKANE Arisa
Translation: SAKUMI Haruka
Supervision of Subtitles: Saimi Noda, Mika Fujimura, Arun
Publicity Art: MIYOSHI Haruka
Publicity: IKEDA Ayano
Music: noppo no goonie
Theme Song: "See-through Rescue"
Lyrics: MORONE Yosuke
Music: KOBAYASHI Konomi
Arangement: noppo no goonie Vo: sei
Director/Script/Cinemagratophy: SUMIMOTO Naoko
---
【Screening Schedule】
"Floating Borderline"(2020/Japan/65min)
Nov. 19(Sat)10:00~@Yokogawa Cinema
※The time to start screenings and the speakers can be changed due to unavoidable circumstances.
---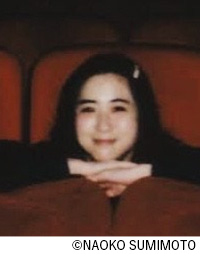 Director: SUMIMOTO Naoko
SUMIMOTO Naoko, born in Hiroshima in 1989, specialized in printmaking at Tama Art University. After graduating, she developed her talents as an illustrator. An example of which can be seen in the illustrations and bindings produced for KANEKO Yu's 2020 book "Introduction to World Cinema." She is also known for her work on the online magazine 'Filmground,' which she not only oversees the running of but also actively contributes to. Her interests lie in writing essays and drawing illustrations that depict the moments when life and film interconnect. Her various talents, skills and interests combine to create a unique filmmaking style that is on full display in her feature-length film "Floating Borderline."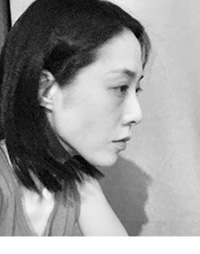 Actor: KAWASHIMA Marino
Born on April 26, 1994 in Yokohama City, Kanagawa Prefecture, KAWASHIMA Marino made her debut as an actor in "Floating Borderline" (2020). She was then introduced to KUROKAWA Yukinori by director SUMIMOTO Naoko and went on to star in his film "Garden Sandbox" (2022), Kinokoya's first production, which featured in the International Film section of the 33rd Marseille International Film Festival. "Garden Sandbox" premiered in Marseille in July 2022 and is set to be shown at the PorePore Higashinakano Cinema in Tokyo in December. Living with her cats, Umi and Coco, Marino is pursuing a career as a freelance actor with a focus on films.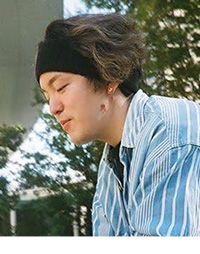 Sound/Sound Mixer: TAKIZAWA Yuki
Born in Yokohama, Kanagawa Prefecture in 1994, TAKIZAWA Yuki aspired to enter the music industry after graduating from university. However, the many twists and turns in life have taken him to a small island where he works in the restaurant business, enjoying the breeze as it drifts over from Yokohama. His favorite foods are the root vegetable called taros and sweetened red-bean paste tsubuan.
« Screening of "AMIKO" Directed by MORII Yusuke, and a Talk Show by the Director, OSAWA Kana [Amiko] , OKUMURA Tensei [Kota] , OZEKI Yuto[Nori] and KITTAKA Mimaki [Bozu atama].Screening and a Talk Show of "Josee, the Tiger and the Fish" Directed by KIM Jong-kwan (KOREA) »