News
2021/11/21
"GREEN SEA" directed by Ms. Angeliki Antoniou
"GREEN SEA" directed by Ms. Angeliki Antoniou was screened at Hiroshima City Cinematographic and Audio-visual Library on Nov.21 (Sun) at 14:00. The story begins with Anna who lost her memory. She meets the unpredictable loner, Roula and gets a job as a cook and a place to stay at his shabby tavern by a Greek harbor. Her simple yet delicious food awakens memories for the locals, who in turn help her to reconnect with herself. The story takes unexpected turn when Roula suddenly discovers Anna's true identity.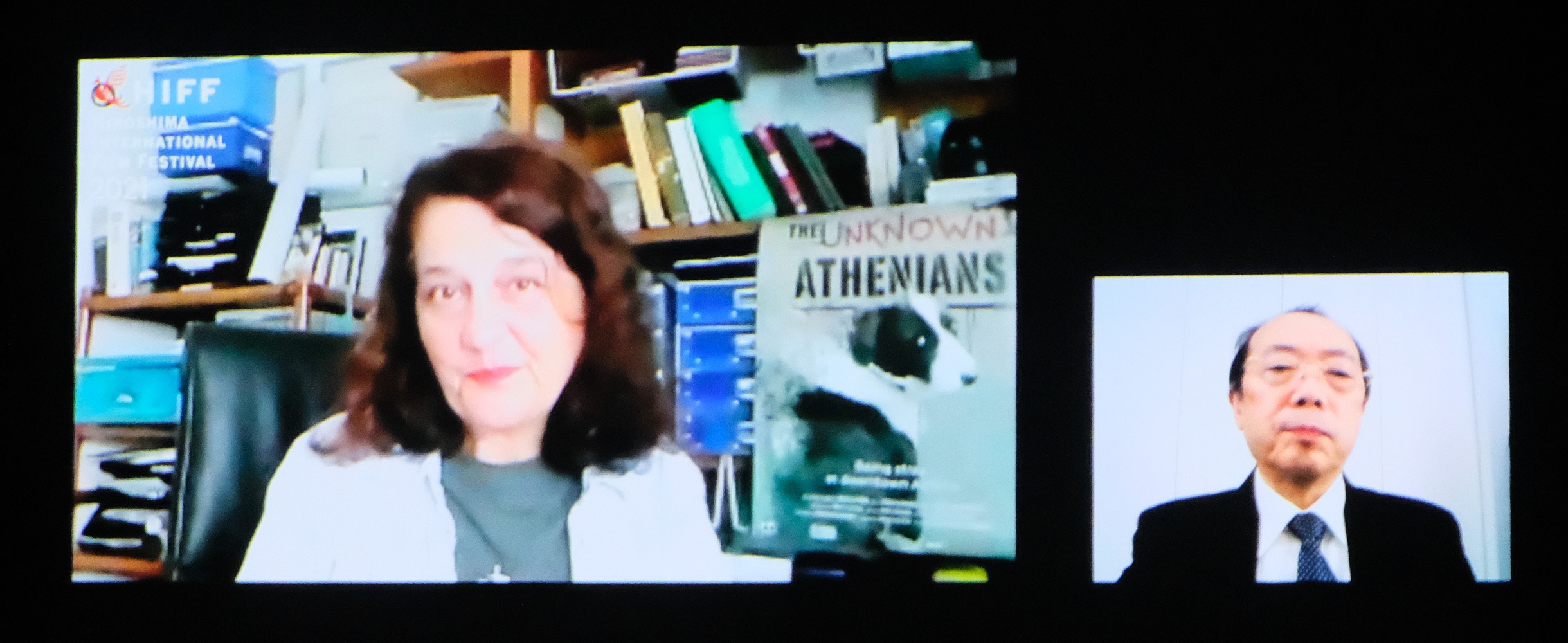 After the screening, a recorded online interview with Director Antoniou was shown to the audience. The interviewer was Professor KAIJIMA Takashi from Hijiyama University. When she was asked about her background, she replied, "I studied architecture, but I didn't want to be an architect, so I started out as an actress. But my family was against it, so I started making films." When Professor Kaijima asked about Anna, the main character of "GREEN SEA," she talked about her illness, "Anna is always thinking in her head, and due to loneliness and stress, she has memory loss." Referring to Anna, who recognizes love by offering food without expecting anything in return, she spoke strongly about what we really need is "a meal of knowledge" and the importance of taking the stance of absorbing all kinds of knowledge.
Professor Kaijima changes the subject to her favorite Greek food, she said, "I like spaghetti with garlic and fricassee. I'll make it for you when I go to Hiroshima." The audience accepted the atmosphere with warm smiles. As for the lonely Lula, the owner of the tavern, she said, "He has no hope in life, but he has a human strength that gives Anna a job. I wanted to portray the complex process of how he hates human relationships but comes into contact with Anna and regains love." She talked about her future plans for her film-making, "To tell you the truth, I'm a little tired, so I'm planning a resting period. I'm going to forget everything, just look at the ocean, and think about my life. After that, I'd like to answer this question," she said with a radiant expression.
She answered questions with a smile from start to finish. In closing, she said to the audience, "Just as Anna warmed up everyone with her cooking, I hope you enjoy this film and that it soothes your soul and heart. I'm sorry I can't be in Hiroshima, but please enjoy it."
« "SEOBOK" Director Lee Yong-ju wanted to have conversations with the audienceA Teach-In by Director KATABUCHI Sunao about his upcoming animated feature film »